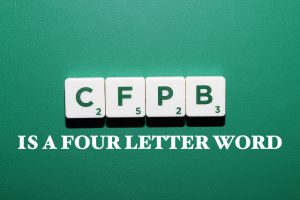 The federal war against payday loans has been dealt a very damaging blow. Thanks to the Freedom of Information Act, the data collected by the Consumer Financial Protection Bureau (CFPB) has been made public. It shows that by a staggeringly wide margin, people who use payday loans are happy with payday loans.
This proves beyond a shadow of a doubt that the charges leveled by the CFPB are false. Consumers aren't against these loans: the only people who don't like them are bank executives!
CFPB & Payday Loan Industry
The Federal Government and the CFPB have been waging war on the private lending and payday loan industry. This is not news, it's been an ongoing campaign to completely rid the country of short term loans from small business owners.
The payday lenders of the nation have been fighting back. They claim that the people who actually use these loans are overwhelmingly satisfied with their experience. They also claim that putting payday lenders out of business doesn't benefit the American people, it only benefits the Big Banks.
The payday loan industry generates billions of dollars worth of loans every year. It is the one true alternative to large corporate banks. These banks want that business for themselves, so it pressures the government to make payday loans illegal.
Freedom of Information Act
Last week, the Freedom of Information Act compelled the CFPB to release more than 12,000 testimonials they collected to support their claims. The CFPB did NOT want these testimonials released, and now it's easy to seem why.
These first-person accounts from real life American payday loan borrowers were intended to serve as ammunition in the war against lenders. They were supposed to be damning accounts of mistreatment and malfeasance.
Instead, they proved to be overwhelmingly supportive of payday loans.
How overwhelming? A whopping 98% of them were positive and supportive. Real people used the following words to describe their experience with payday loans:
"Courteous"
"Helpful"
"Convenient"
"Affordable"
"Timely"
"Great"
"Easy"
It would be easy to dismiss if these testimonials were collected by the payday lenders. But these come from the CFPB! They have been collecting complaints and grievances online since 2011, and payday loans make up a tiny 1.5% of all complaints.
Federal Statistics
The Federal Trade Commission (FTC) had similar numbers, noting that out of 3 million complaints received, less than one one hundredth of a percent were about payday lenders.
Banks received more complaints
Credit card companies received more complaints
Credit unions received more complaints
Payday lenders were supposed to be the "bad guys" of the financial world, but the cold hard facts tell a different story.
Will the Obama Administration, the Federal Government, or the CFPB accept the truth and call off their war? Probably not. After all, the big banks donate millions of dollars to politicians every year. So who is really pulling the strings?
Similar Posts: