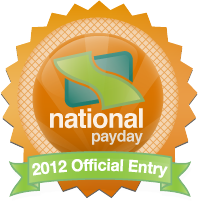 By Lacey Poulson
You reach into your wallet to grab the last five dollar bill and a few ones for some lunch off campus. You realize that you won't be getting your paycheck for another week, and your funds are limited. You had plans on buying your girlfriend the perfect anniversary gift, and since you forgot about your anniversary last year you could be in the dog house for good if you don't make up for it this year.
You go to the jewelry store and find the perfect necklace. It is a little out of your price range, but you know that she will love it. You think about trying to save up for it, but realize that with bills and your tuition fees, you won't be able to save up this much in such a short period of time. You also think about calling and asking your parents for a birthday cash advance. Since your birthday isn't for another nine months, your parents are skeptical and ask you what the money is for. When you tell them you are buying your girlfriend, who they aren't super fond of after hearing about her wild past, they deny you the advance.
All of your friends have credit card they got when they turned 18, but all of them preach to you not to get one. With the amount of fees they are paying every month from finance charges, and hidden costs, regular credit cards can be a total hassle, and end up costing you so much more than you bargained for.
The jewelry company offers you a one year, same as cash financing. You are initially skeptical, but after hearing about it a little more, and talking it through with some friends,  you decide to go for it. Technically this is a credit car. However, to simplify it, if you pay this card off and don't miss any payments in one year, then you don't have to pay any interest fees. Hence the term, "same as cash".
This could strongly benefit you, since you know you have  a steady paycheck, and even a tax return coming in soon. You know you will have no problem making the payments on time, and you know that your girlfriend will be happy. It is a win, win; as long as you make those payments!
Short term-financing doesn't have to mean digging yourself into a hole. As long as you are responsible, and don't spend beyond your means, you can enjoy the rewards now and pay for them later. Just because you hear financing, doesn't mean you have to start running. Also, this can help build your credit, credit you will need in the future when you buy that lucky lady of yours a diamond ring, or a house!
Similar Posts: