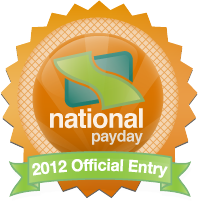 By: Courtney McCarthy
Money is less then a want, but more of a need these days. We no longer use the trade system, and rather then becoming a specialist in everything we use and need, we resort to money. A simple object that decides what one can and can't do in life. Maslow's Hierarchy of Needs theory states that one needs to have their physiological needs met in order to move up the pyramid to safety, love, self-esteem, and self-actualization. Ones physiological needs include food, water, shelter, breathing, sex, sleep, and excretion. In order to fulfill half of ones physiological needs, one has to have money: money for food to eat, money for water to drink, and money for a place to stay. A person can't feel safe, loved, and reach their personal potential without first fulfilling ones physiological needs.
A short-term finance helps a person reach their next step on Maslow's pyramid of needs theory, and in life. A short-term finance can help bring someone to his or her full potential. It provides an answer to a need; whether that need is to pay for education, mortgage, or food the short-term finance is providing a solution. All these things are done and needed in order to better ones situation, and to step up on the Maslow's pyramid of needs to reach their next step and a short-term finance can help in a person's journey to do just that.
When I was 17 I started my journey to finding out who I am. I was in an AP psychology class in high school when my teacher showed me a slid show of his past endeavor to Swaziland, Africa. That day, I went home and told my mom I was going to Africa. After we wrestled out mom's fears of going to Africa, I wrote my first support letter. I asked individuals if they would consider joining with me on a journey that would change my life forever. And they did. Since then my life has never been the same. I have been blessed with opportunities to serve here in America as well as overseas. I have interned with Northland Church to teaching in an orphanage in Sierra Leone. Each experience bringing me closer to whom I was made to be. Since writing my first support letter, I have had many family and friends come together to make short-term donations to help me reach my full potential and to help people here in America and in other countries reach theirs. I have been blessed with the opportunities to teach and work in orphanages in developing nations because someone decided to take a chance in me, to make a short-term donation in order that I may reach self-actualization.
If it weren't for all the people who gave short-term donations to my trips, I would not be who I am today. Through these journeys I have learned that the world is a lot bigger then the people I see around me, that there are people hurting across the world and also in our backyards, and that we were not made to live life by ourselves. Rather we were made for relationships, for community. We were made to help each other and that is exactly what any type of short-term finance does. It helps someone in need take his or her next right step in life. It helps a person whose in a crisis situation receive care, it helps the single mom buy Christmas presents for her three kids, it helps the college student realize his or next steps in life. A short-term finance is more then simply writing a check, it is investing in someone's life, helping him or her take their next right step.
Similar Posts: