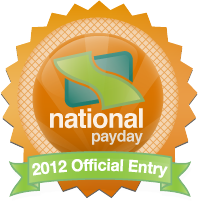 By Jonathan Martin
Short-term financing can benefit a person's life in many ways.  It allows us to pursue advancement in multiple areas of our lives by providing a way to obtain the things necessary to achieving our goals.  Whether our goals are to become a college graduate, attain additional certifications for a career, or even just getting that new big screen TV, short-term financing affords people a way to enrich their lives.
It has been my experience that such financing makes it possible for obtaining the things that I both want and need.  For example, short-term financing at big box stores has been how I have acquired all of the appliances (and televisions/computers) in my house.  Most of these stores offer no interest and no payments for a year if you open a store credit card.  The best way I have found to take advantage of these offers is to start by opening a card.  Then I purchase the item that I need or want.  The next step in process is the one I consider to be the most important.  I then divide the purchase amount by 12 (months) and add that number to my monthly bills.  By paying the total amount off in the first year, you avoid paying any interest.  Once the item is paid in full, I simply leave the account open, but do not make any more purchases using it.  Through this type of short-term financing, I not only get the things I need, but build and maintain good credit at the same time.
Another way that this kind of financing can benefit people is to help build or restore credit.  People seeking to make larger purchases, such as homes and vehicles, can use it to establish better credit scores.  People who do not have credit cards or other types of loans can open short-term credit accounts to quickly bolster existing credit scores.  A good way to do this would be to open a credit card account, and use it to purchase one tank of gas for your vehicle a month.  When the bill comes in, make sure to pay it in full as to avoid high rates of interest credit card companies will charge you for paying the minimum, and repeat until you see your credit score climb.  This is simply another example of how short-term financing can benefit people.
I have also employed this concept to my career.  As an EMT, there are many categories of certification that help increase opportunity within the field.  These certifications require classroom and practical time, both of which cost money.  The programs can range anywhere from $1,000-$10,000 and the places that offer these programs usually have payment options for the fees associated with the process.  Without this kind of short-term financing, it would be almost impossible for me to afford the entire lump sum necessary to enroll in the class.  I would not be able to advance my career as quickly if it weren't for this option.  Because of it, I can honestly say that my life has been improved thanks to short-term financing.
People can also take advantage of these opportunities when it comes to the pursuit of their personal goals.  If someone has a desire to start their own business, banks offer short-term loans which can facilitate that dream.  It would be hard to imagine all of the creations and innovations we would be without as a society had it not been for these kind of loans.  In this sense, it not only enriches an individual's quality of life, but that of people in the community as well.
Short-term financing has the ability to impact individuals and society in an extremely positive way.  Whether it be used for personal or professional gain, the need for such opportunity should not be underestimated or undervalued.  I have used it in my own life to achieve goals and have seen how it can benefit others as well.
Similar Posts: