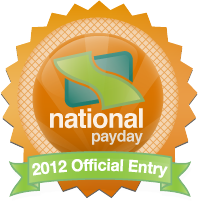 By: Caleb Swope
Short term financing is a win-win scenario that everyone can benefit from at some point in their life. Whether it is from just needing extra cash for the summer family vacation, paying an important electric or medical bill, or if your company needs to make some necessary upgrades to stay competitive, short term financing can come in handy. No matter how big or small the need, short term financing is an opportunity that can benefit everyone. Most people consider short term financing as a "payday loan", this may often be the case but that is just the tip of the iceberg. There are many different ways that short term financing can benefit even the everyday American but the biggest of those would be the "Here and Now". Just about everyone wants or needs something and they want it here and they want it now. Everyone has encountered that unexpected bill for more then they could handle and didn't know where to turn when it came due.
One quick way to avoid late fees, service charges or accrued interest is to get quick cash from short term financing. In most cases you can get enough to cover that overdue overcharged hotel bill and still have money to put food on the table. We all have had it happen and at the worst possible time, something goes wrong, gets broken or even worse someone gets hurt. You know what I'm talking about, when the car overheats, bathroom springs a leak, or little Johnny falls off the trampoline. All of these are serious issues and are all things that cant just be pushed to the back burner and out of sight but are of rather high importance and can be quite costly. With short term financing you can get little Johnny back on his feet and not have to stress over large lump payments. Whether its for a $500 medical bill or a $2500 mechanical breakdown paying the bill is a must but being able to pay for it over a short period is makes it a lot easier on the everyday working American to be able to still have that cash on hand to put gas in that car once its out of the shop.
In a business, we all know that you have to stay up to date with the competition in order to keep the customers coming back. If your business needs a little makeover or fix-up to get that spark back, why take your hard saved cash and sweat it out the next year hoping nothing else goes wrong? Take advantage of short term financing and keep cash on hand for other business expenses that may arise. No matter if it's a small or large business, having cash on hand for day to day operations is crucial to survive, so whether its for upgraded kitchen equipment or for a catchy new marketing campaign, short term financing can help your business stay competitive while still keeping cash in your pocket.
As you can see short term financing is not just your typical payday loan but yet there is a whole slew of scenarios that can benefit from short term financing. Whether it be an unexpected bill, costly breakdown or a much needed upgrade, nobody likes being in a situation that they cant control and short term financing gives them some control back over those situations. No matter if its to fix, improve or repair our life, anyone can benefit from short term financing. Short term financing is a win-win scenario that everyone can benefit from at some point in their life.
Similar Posts: