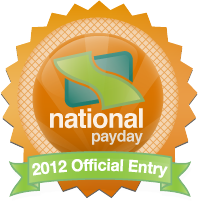 By: Alexis Newsome
Short term financing is something that has given me the opportunity to pursue my dreams. My junior year of high school, I began the search for my dream college. I visited USF, FSU, Miami and finally UCF. While spending time in Orlando I fell in love with the beautiful campus, the school spirit, the kind students and the amazing town of Orlando. I wore my "Go Knights!" shirt with pride and counted down the days until I would finally move out of my home in St Petersburg and into the Nike dorms.
My first summer away was not as easy as planned, laundry and dishes didn't do themselves and classes were tough. Regardless, I was in love with my school. I chose to rush a sorority in the fall. Three days into rush I knew that this was what I wanted for myself, I fell in love with a sorority and was ecstatic to finish up the week, begin my fall semester and meet all new people. I got a call from my mother late that night telling me that my father had been laid off from his job. I was in shock. I had heard of things like this happening to people all the time but I never imagined that it would happen to my family. She continued to tell me that it was my decision as to what I wanted to do with being in a sorority and staying in Orlando, but that she couldn't promise that they were going to be able to help me financially along the way of my college career.
My amazing summer and my entire future flashed before my eyes as I tried to decide what the best decision was for me. While I knew it would be hard to financially support myself in college, I knew that I wouldn't bear to leave Orlando and all of the friends I had made and move back home. I looked into short term financing and chose to take out a loan in order to stay where I was and keep doing what I was planning on doing in school and in my sorority. I got a part time job in order to pay my rent, I had bright futures to help me with 75% of my tuition and I took out a loan to help me with the rest. While this was a hard decision to make at such a young age, I am so glad I did it. It gave me the opportunity to stay at UCF and join a sorority where I met some of the most amazing lifelong friends.
My father eventually found a part time job, but has been struggling since then to find something that can provide for my family the way his other career did.  I also have a younger brother that is going to college in the fall who I would rather be given financial help by my parents then me. I had no choice but to grow up and learn to work hard in school and have a job at the same time, but I wouldn't change the decision I made for short term financing. I know the true value of the money that I spend and this experience has changed the way I choose to spend my money. I was accepted into the Advertising and Public Relations major and I am minoring in Marketing and Sociology. UCF and the town of Orlando have given me opportunities that I never would have been able to have if I had to move home and didn't get financial help.  While at times financing is frowned upon because people can be irresponsible, I know that I made the right decision to get help in order to pursue my dream of being a Pharmaceutical Representative because I will be able to pay it back once I am finished and have the career of my dreams.
Similar Posts: