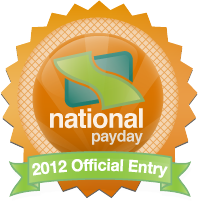 By: Shannon Harris
Never Enough! Growing up with a Father who had a drug- addiction and a Mother who worked to jobs to support two children is a perfect example of how short-term financing can benefit a person. I still remember the nights when we shared each others body heat just to keep warn through the night, breathed into our hands to create some type of heat and used bathroom towels to cover our feet. But she still got up every morning proud as can be and went to work just so her family could eat. But that wasn't always possible, some days she would cook a huge dinner and we would stretch the meal for seven days, other days we consumed lots of water neither one of us getting the recommended portion that the USDA provides for children, but who cared we were eating. Other children would tease my sister and me because we were skinny and were not the weight we were supposed to be because we didn't eat enough not because we didn't want too but because there wasn't enough.
I remember the soles on my mother's shoes had holes the size of golf balls at the bottom, so you know her feet were hitting the cement. We are from Baltimore, Maryland so winter time was the worse. I remember saying "Mommy I have some quarters in my piggy bank, so you can buy you some new shoes." She burst in tears because she had ENOUGH! Of course, my Father would be pop home every couple of weeks and that was because he was so intoxicated or on some type of drug he wanted to eat, shower and go back in the streets. No one helped us, Grandmother, Aunts, Uncles, Cousins it is like our family didn't exist. We always questioned what did we do wrong to deserve this? But who knows, can children really harm anyone? We couldn't worry about the answer to this question we had to move on.
When my sister turned 17 she got pregnant. As much as we already struggled we realized we had another mouth we were going to have to feed. I remember my Mother on the edge of bed praying to God, and she said, "God I know you will not give me more than I can handle." And she went to my sister and said, "It is okay, I will support you." So we moved on with our life, as it was and we held our heads high and knew we were going to make it. My sister had a beautiful baby boy and my mother became a Grandmother. Of course my mother had to really get as much hours in as possible to provide for three people now. Which means, she had less time with us , didn't check my homework, didn't come to my school for parent- teaching conferences by the time she got home from her second job I was sleep. We only saw each other in the morning in passing and I remember saying every morning, "I love you, Mommy."And she replied, "I love you too more than all the words in all the books in all the World." So, I became my own teacher , I began to read and learn new words and my teachers helped me with my homework everyday so when I went home my mother would not have do anything but come home and go to sleep. After all, I knew what she had on her plate. Two years later my sister got pregnant again. This was another mouth to feed; Mom was not as cool about this one. But we simply moved on. However, we needed more money, so I had to get a job. My first job was at Chick-fi-la, I remember wearing my black and red uniform. Every two weeks my check was $112.00 and it went toward lights or groceries. I then went to high school never able to participate in school functions or hang out with my friends because I had a job and I was also a babysitter.
Short- term financing could have helped our family in many ways such as, food, clothing, and given to me time to be a normal teenage girl and not have to worry about bringing home a paycheck. And last money could have paid for my dad to recover from alcohol and drugs because I now no longer have him in my life. I would be so grateful to have this scholarship because even today it's Never Enough, I struggle even more now that I am in College and no one reaches out to me or even seems to care.
Thank you.
Similar Posts: