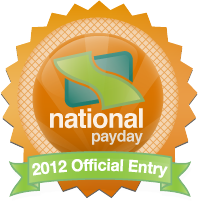 By: Robin Palmer
Financing, whether short-term or long-term, has been a part of our lives for generations. From personal experience, most things in life have to be financed. Sometimes you just need to borrow a few bucks from a friend or family member to fix your broken down car. Sometimes you finance larger amounts to buy a new car once you give up on the old broken down one. I have financed a large variety of things from my big screen TV, vet bills for my beloved pets, new car, and school. At this point in my life I look forward to financing my own home.
How does financing benefit me? On a small scale, sometimes you just need a helping hand to get you over the bumps that life sometimes throws at you. It's also nice to use financing to buy things that make you happy, like my big screen TV! On a large scale, those small things that I finance help build my credit that is so important in life. I have so many friends that don't have a credit card and have never made any significant purchases. This gives me anxiety since I have seen firsthand the unexpected turn of events that require expenses that no one could prepare for. I had to finance money to pay for my horse when she unexpectedly became sick and it was going to cost thousands of dollars to save her life. Without the ability to finance money I would not have my car, my home, or my horse, all which I could not imagine my life without.
So why would a person want to finance something? Life is expensive. College students especially know how expensive it can be. Any college student that has looked back on their first day at the campus bookstore can tell you about expenses that are not foreseen. I remember registering for classes and being excited about picking up my textbooks. Who in their right mind would expect to buy a used book for $200 when it is full of writing, highlighting, the front cover is half torn off, and it smells like mold! This is a sad reality! Day to day costs of a college student include gas to commute to school, car payments, car insurance, and overpriced lunches. This doesn't even take into consideration the new laptop you need, supplies, professional outfit for interviews, and tuition.
What about other young adults that are not college students? What about single mom or single dads? The cost of raising a child today is very high. Each day people go to work and before they know it the paycheck is gone. What if the washing machine breaks? Where is that extra $1000 going to come from when so many people live paycheck to paycheck? I had a friend who always just barely made her rent. When her mom passed away she couldn't even afford to fly back home for the funeral.
The ability to finance allows us to reach some of our personal dreams. I have a personal dream of trying to fix up my house and make it my home. I used my Home Depot credit card to purchase tile for my floor. I financed my new living room set. Can you imagine if you had to pay in full for everything you had? Should I have saved for a few weeks and purchased my couch or my coffee table first? I would be very disappointed if saved for a few weeks and bought a couch and then had to wait months to be able to afford the TV and entertainment center.
As with everything, there is a downside to financing. It is easy to be overcome with debt and to get carried away. Maturity and responsibility are a must when considering financing anything. One must consider how they are going to pay for the item, if they truly need the items, and how much more that item is going to cost after interest. I financed my new car, but as I was looking at the price on the car I did not consider the actual cost of the car after all of the interest I paid. I still would have bought it, as there is no other way I could have afforded to get a vehicle. It was worth it. Life is expensive but is worth living.
Similar Posts: