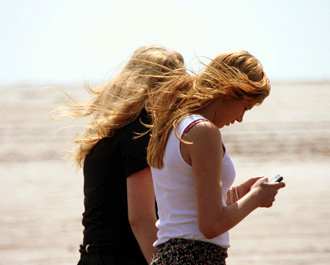 Relaxing on the beach? You can get a loan approved.
Playing couch potato in your jammies? Don't get up, you won't need to.
In the middle of a screaming crowd of sports fans? The cash will come to you.
Thanks to advancements in technology and streamlining in the payday loan industry, it is now easier than ever to apply for a loan, get approved, and get confirmation of funds electronically deposited into your account… all without having to stop what you were already doing.
Thanks to smart phones, where you are or what you are doing no longer matters. Before the internet, cash advances were restricted solely to brick-and-mortar storefronts. Soon after there were 800 numbers, where a borrower could contact their lender long distance. As soon as the internet was up and running, payday lenders were on the forefront of online business, with web sites that allowed you to apply from the comfort of your own home.
But what if you need money and you aren't at home? What if you are on a family vacation, a work retreat, or a night out with your spouse? My optimizing their businesses for hand held devices, lenders have attempted to make payday loans available to as many people as possible, in as many places as possible.
Nowadays even laptop computers seems clunky and archaic. Why bother with something so heavy when the little computer in the palm of your hand can do anything your desktop could do? From financial planning to live-time loan applications, you can control every aspect of your personal finance from your phone.
Benefits of Mobile Loans
Mobile payday loans offer you the sort of freedom and convenience no other lenders can. It's more than simply "I can apply while waiting in line at the movies" although that is kind of a big deal.
No other kind of loan is available 24 hours a day 7 days a week
No other kind of loan will respond to your application within minutes.
No other loan allows you to apply over your phone.
This is just the tip of the iceberg. Payday loans can offer you many time-saving features you just can't find at a bank or a credit union.
Payday loans may not require a credit check for approval but often do.
They also do not negatively affect your credit.
There are zero up-front costs (if your payday lender does ask for money up front, find yourself a different lender!)
Most online lenders will approve your loan within an hour.
Once approved, an online payday lender can have the funds electronically deposited in your account within 2 to 24 hours.
The application process, the exchange of funds, and any customer service contact are all confidential and discreet.
Reputable online lenders keep up to date with security updates and encryption software. The security of borrowers most sensitive information is a top priority, and is protected accordingly.
No matter where you are or why you need the money, if you have a smart phone you can make any day your payday.
Similar Posts: