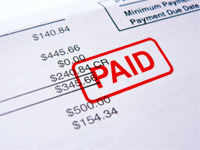 National Payday typically allows our customers to make partial payments on their pay day advance loans as long as they are paid on a weekly, biweekly, or twice monthly basis. Any customer who receives pay only once per month is required to pay the loan in full.
Paying on your loan is simple. Once you know how much money you are able to pay on your next due date (your next payday), simply log on to our "Pay On a Current Loan" section and submit your payment request. Simply fill out the payment request form, indicating if you would like to pay in full, the minimum payment, or a different amount! Once you submit the payment request, we will be notified and that amount will be deducted from your bank account on your upcoming due date. Remember to print out your contract for your records since it does show you your remaining balance and next due date if you have not chosen to pay in full.
Always look for our payment request approval email as confirmation that your request came through. Your payment request may be submitted as early as you like, but we will never process the payment until you are actually due.
It's important to remember that if you do not pay the balance in full, the 30% loan fee will be added to whatever balance remains. It is in your best interest to pay the loan in full as quickly as possible. If you cannot pay in full, always pay more than the minimum payment allowed as that amount is simply the loan fee. Paying only the minimum will never reduce the total amount that you owe.
All customers who receive their paycheck on a monthly basis are required to pay in full on their date due. When you log on to make a payment request, you will be reminded of this and your due date. Monthly customers are required to pay in full simply because their next payday lies outside the maximum amount of time we allow for a loan or between payments. This period may not exceed 16 days.
Finally, if you do not submit a payment request, your balance in full will be deducted on your contractual due date. It is always best to log on to submit a payment request, even when paying in full, so that you can confirm the date and the amount that you will pay.
Similar Posts: