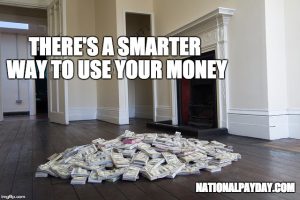 Getting a cash advance, or a payday loan, is one of the few consumer options available to deal with emergency situations where you just can't wait until your next paycheck. But it is important to use them in a responsible manner.
The convenience, speed, and availability of these cash advances makes them a very attractive offer for some people. How they work is very simple – instead of using a car or a house to secure a loan, you simply use your earning power. Based on how much you make, the payday lender will advance you that money from your upcoming check. That puts the money in your pocket NOW, no waiting necessary! And then when payday comes around, you use that check to pay back the loan. That's the entire process in a nutshell.
The cash advance process is SO easy, in fact, that some people use them even when they don't have to. Want to go shopping? Want to go out on a date? Well why not use a payday loan for it?
We must caution you against this. While cash advances can be a wonderful help for people in financial need, they are NOT something to be taken lightly or used on a whim. Call it responsible lending or responsible borrowing, the key here is to be responsible with these loans!
Because the loans are available to anyone with a job, and the approval process is so fast, cash advances carry much higher APR than bank loans. Borrowing for a week isn't a problem, but if someone mismanages their money and can't pay the loan back for several paychecks, those fees can really pile up!
So being financially responsible is really quite important.
Responsible Uses for a Loan
Cash advances should be used in cases of NEED, not just because a WANT. Using a payday loan intelligently can actually help your finances in the long run, but being flippant about them can hurt your bottom line.
Overdue utility bill?
Phone about to be cut off?
No money for food or medicine?
Car broken down, and you can't get to work?
These are the reasons cash advances were invented! To give a little help to those people who need it.
Clothes shopping?
Date night?
Really want to win that auction on Ebay?
Paying the cable bill so you don't miss the big game?
These are not responsible uses of a payday loan. Of course ultimately all of your financial decisions are made by you. But when dealing with cash advances and payday loans, a little bit of responsible borrowing can go a long way!
Similar Posts: