Important Facts About the Cost of Payday Loans
Payday loans aren't loans in the traditional sense – they are actually cash advances intended for short-term use. However, the term "loan" is used frequently to refer this type of financing.
Terms of the Advance
When you apply for a payday loan, you are getting an advance on your paycheck. That's why your payback date corresponds with your pay period at work. Your due date will always fall on your next payday as long as that date is 4 or fewer days from when you receive the funds. In that case, your due date will fall on the following payday, as long as it is within 16 days. Your cash advance term may not more than 16 days or less than 5.
Fees
Because this isn't a loan, you aren't charged interest. Instead, your advance is subject to a flat fee. Regardless of when your balance is paid (within 5-16 days), your fee will always remain the same. The Annual Percentage Rate (APR) will vary based on the number of days you have the advance and when you repay because the fees are fixed. There are no refunds or reduced fees for paying early.
Truth-in-Lending
Although payday loans are meant for the short-term and should be paid off as quickly as possible, a variety of Truth-in-Lending laws require financing disclosures to be shown as an APR. It is important for consumers to understand the cost of credit. Showing an annual rate helps consumers determine how much it will cost to borrow. The uniformity across various credit sources allows you to compare rates and make an informed decision about your personal finances.
APR Disclosure
The table below will help you get your APR disclosure for the dollar amount you wish to borrow based on the number of days you'll have the advance. The term of your loan begins on the day you receive the money in your bank account and ends on the date due. So, when you select the Number of Days, be sure to calculate for the appropriate time it will take from when you submit your application to funds disbursement (usually 1-3 business days). Processing days are not included in the term.
Use the table as a guide to determine what it costs to obtain a payday loan from Nationalpayday.com. The APRs are based on loan terms of a single payment ("Check Amount") due in 7, 14, and 16 days. If your loan term is shorter than the examples below, the APR will increase.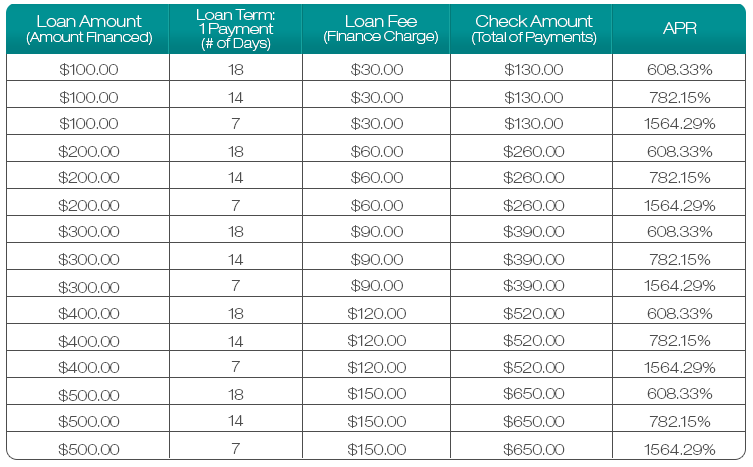 Hours of Operation for Customer Service

Monday – Friday from 9:00 a.m. to 12:00 a.m. EST

Weekends from 9:00 a.m. to 6:00 p.m. EST

Our website is accepting applications 24-hours a day, every day of the year