4 Steps to Emergency Funds!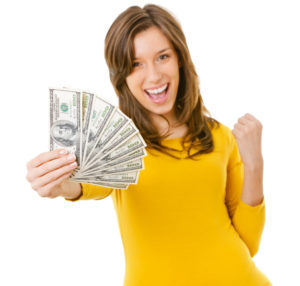 If you're in an emergency situation and you need quick cash, you may be considering an online cash advance from Nationalpayday.com
Cash advance is a great way to get funds if you've already maxed out your credit cards, or don't have any money set aside for an emergency situation. If your car breaks down and you need to repair it to get to your job, for example.
But you may not understand the cash advance process. At Nationalpayday.com, we make it easy to get emergency funds when you need them, with our simple 4-step cash advance process. Here's what you need to know.
Apply Online
We offer completely online payday loans and cash advances. You can fill out our easy application without waiting in a loan office, and you don't have to deal with complex paperwork.
We just need a bit of information from you, such as your current address and your Social Security or driver's license number.
In addition, we have a few requirements that you must fulfill in order to qualify.
You must be at least 18 years of age and a US citizen
You must have proof of a regular minimum income of $1000 a month
You must have an open and active checking account
If you meet our requirements, you're guaranteed to be approved for a cash advance online. Finish the application and wait for approval!
Learn how to get a guaranteed payday loan here.
Get Approval
If you complete your application by 11:50 a.m. on a weekday, we can usually process it on the same day, and deposit your cash on the next business day or the same day if requested.
When you apply for your first payday loan, you will be eligible for $200-$1000. If you choose us as your cash advance lender again, and you have repaid your first loan, you can qualify for up to $1,500.
Need $500 Fast Cash? You can choose to borrow anywhere from $200-$1,500.
Once you're approved, you'll receive an email with details about your loan, repayment, and other critical information. Make sure to read it carefully.
Learn how to get approved for cash advances with direct deposits here.
Get Your Cash
If your application is approved by 11:50 a.m., we can often deposit your cash on the same day if our "Same Day Cash" program is running. Otherwise, we deposit your money with an ACH transfer, which usually takes one business day.
Start Repaying Your Cash Advance
Typically, your payment is due when your next paycheck is deposited. This can be between 5-16 days, depending on the specifics of your payday loan. Once you've gotten paid, just send us the money due, and you're good to go!
Our cash loans online carry a $30 service fee. That means for every $100 you borrow, you will owe an additional $30. If you got a $200 loan, for example, you would have to repay $260. You will get all of the required information once your loan is approved.
Typically, we require payment via ACH or an Electronic Funds Transfer (EFT). However, we can work out alternative payment schemes, if the situation requires it.
Four Steps to Cash – Get Your Cash Advance Now!
If you need fast payday loans, don't wait. At Nationalpayday.com, we make it easy to get the funds you need – fast.
If you have further questions, please feel free to visit our FAQs on our website or get in touch with our customer service team. We're always happy to help!
Hours of Operation for Customer Service

Monday – Friday from 9:00 a.m. to 12:00 a.m. EST

Weekends from 9:00 a.m. to 6:00 p.m. EST

Our website is accepting applications 24-hours a day, every day of the year