Cash Advance Loans Online: A Beginner's Guide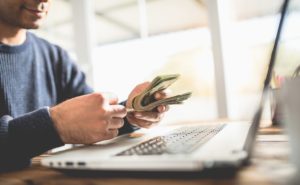 If you're thinking about taking out cash advance loans online, you may have some questions about the process, how it works, and what you can expect when you get cash advance loans online from National Payday.
In this quick beginner's guide, we'll take a look at some of the details, and help you understand the basics about this type of short-term loan.
Cash Advances: A Type of Short-Term, Unsecured Loan
Cash advances are also sometimes called "payday loans." This type of loan is a short-term loan, with repayment expected in about 2-4 weeks.
Cash advances are also unsecured. This means that, unlike a car title loan, for example, you do not have to put up collateral to get a cash loan. If you can prove that you are employed or have a verifiable source of income, you can usually get a cash advance from a company like National Payday.
You Don't Need a Credit Check to Get a Cash Advance Loan
Unlike a personal loan or other types of bank loans, cash advance loans do not require traditional credit checks. In addition, it means that people who have poor credit often choose cash advance loans instead of other types of loan products, like personal loans, from traditional lenders. 
Cash Advance Loans Cost More Than Most Other Types of Loan
Because cash advance loans are usually offered to people with bad credit and are not secured by collateral, they are more risk for the lender.
To help mitigate this risk, and ensure that the company is profitable, providers of cash advance loans online usually must charge a higher service fee, compared to other types of loan providers. At National Payday, for example, you will pay a fee of 30% of the borrowed sum of money.
Cash Advance Loans Are Meant for Emergencies
Because cash advance loans are quite expensive compared to other types of loan options, they are not intended to be used for day-to-day expenses or frivolous purchases. Instead, you should apply for cash advance loans online for emergencies.
If your car breaks down and you cannot afford to repair it so that you can get to work, for example, it may make sense to get a cash advance loan. However, you should not get a cash advance loan for something unnecessary – like funding a vacation. 
It's Easy to Get Cash Advance Loans Online with National Payday
At National Payday, we offer cash advance loans online at competitive rates, with a simple application process. If you would like to learn more about our loans before you apply, check out our FAQs. Ready to get started? Begin your application here and you can get a cash advance loan online and get your funds in just a few hours.
Hours of Operation for Customer Service

Monday – Friday from 9:00 a.m. to 12:00 a.m. EST

Weekends from 9:00 a.m. to 6:00 p.m. EST

Our website is accepting applications 24-hours a day, every day of the year