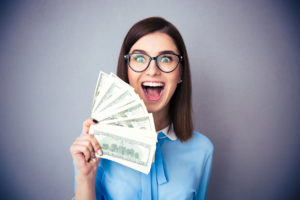 If you're in need of some quick cash, you may be considering a payday loan. If you need to pay rent, get groceries, pay for an unexpected medical bill, or deal with any other kind of expense, you may be wondering if a payday loan is really the best choice for you.

So, in this article, we'll discuss your other options – including cash advances, bank loans, and more. Let's get started and compare the top choices you have for a short-term loan.
Payday loans are designed specifically to help folks with low credit get access to emergency cash. You'll usually pay about $30 per $100 you borrow, but you'll be able to get your cash instantly and use it for whatever you want to. Then, you'll repay the loan on your next payday.
Is a payday loan always the best option? Not necessarily. But in a pinch, paying a small fee to get emergency cash can be well worth it – if you need extra money to pay your gas bill and keep your family warm, for example.
Over drafting Your Account
If you want, you can always write a check to make a large purchase and hope that your next payday deposit hits before the check is cashed – or you could even pay for a purchase with your debit card, and overdraft your account.
But this is not a good solution for a short-term loan. Being in overdraft can cost you up to $20 per day or more in fees, depending on your bank. Sure, if you need to pay rent today and you get paid tomorrow, it's a reasonable option, but otherwise, it's a bad financial choice.
Credit Card Cash Advances
Credit card cash advances are a reasonable way to get quick cash, but they may cost more than you think. When you get a cash advance, you'll be charged extra interest – up to 30% – and this interest will begin growing as soon as you pull out the money.
Even if you pay your card off in full at the end of the month, you'll owe interest on the cash advance. You may also have to pay a fee of 1 to 5% as soon as you withdraw the money.
And if you can't pay your credit card down, this debt will continue to grow for months – potentially costing you thousands of dollars in interest in the long run.
A bank loan is a reasonable way to get some emergency cash, if you have a good credit score – and can wait weeks for approval. Compared to the other options on this list, you'll pay a very low interest fee, often as low as 10% or less if you have a good credit score.
But if you need quick cash, a bank loan is not ideal. It could take quite a while to receive approval – and if you don't have good credit, your application is likely to get rejected.
Borrowing from Friends & Family
Money can destroy your relationships. If you have a good relationship with a friend or family member, are smart about your finances, and just borrow enough to make it through an emergency – and pay them back – this can be a reasonable option.
But things can get messy fast when you're borrowing money from others. Sure, you won't pay any interest, but if you can't repay them on time, you may strain or damage your relationship permanently. That's a high price to pay for a short-term emergency loan.
Know Your Short-Term Loan Options – And If A Payday Loan Is Right For You
If you need an emergency loan, choosing an online payday lender like National Payday may be the best option for you.

So get started with our secure online application process now and get the cash you need today!
Similar Posts:
Hours of Operation for Customer Service

Monday – Friday from 9:00 a.m. to 12:00 a.m. EST

Weekends from 9:00 a.m. to 6:00 p.m. EST

Our website is accepting applications 24-hours a day, every day of the year