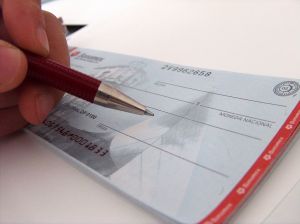 While the general idea is the same there is a difference between check cash loans and a payday loan.  Both types of assistance will help you should an emergency arise, so what is the main difference?  With a check cash loan you will be writing a check to the lender for money that can help you in a crisis.  Once you get paid again you will stop in at the lender's office and repay the check cash loan.  When you are going for a short term payday loan you can apply online without using a company that even has a building, although some companies let you get a check cash loan application online.
You may be afraid that this kind of loan will be too expensive to pay back or that your credit history will keep you from really getting the money.  In most cases credit history is not even looked at as the lender only cares about your ability to repay the loan you are applying for.  The interest rates can be very high with this type of loan so you aren't wrong to wonder if it might cost you a lot in the end.  There are some lenders that charge a flat fee for their loans rather than a variable interest rate.  If you can find such a company you may find it very affordable for your situation.
State laws regulate the amount of money that can be loaned.  You can find out how much your state allows by going online or the lender can tell you when you apply.  Generally the range begins at one hundred dollars and caps around one thousand dollars.  There are some lenders that won't lend the high limit that a state allows if you won't be able to repay it with your next pay check.  This stops you from getting in over your head with another loan you can't really afford.  You should think of this parameter as a safety measure, not a punishment.
Everything you read about check cash loans should impart the knowledge that these loans aren't for long term debt solutions.  Interest rates can start at 300% and escalate from there.  As you can see it wouldn't take long for a one hundred dollar check cash loan to spiral out of control if you couldn't immediately repay it.  Should you find yourself in a position that you need to keep borrowing money for short term expenses you may wish to seek a professional credit counseling service.  Many non- profit organizations are available to help you lower credit card interest rates and help you get out of debt once and for all.
If you don't want to use a check to get instant extra money there are other ways to attain cash.  If you have a car you may be able to get extra cash using your car's title.  As with other ways to get money with a short term loan there are a few things you will need to make this work for you.  Not all states allow you to use a car title to get a loan, but if you live in one that does, you will need the vehicle, the title to the vehicle, a set of keys to your vehicle, identification proof, proof of residence and proof of income.
If you choose to use an online lender for your payday or check cash loan you might be surprised to learn that many of them aren't the lender.  While some of these companies do actually make the loans the majority of them just set you up with lenders that might work for you.  They take you information from the application and match it to several lenders.  This way you have a selection to choose from and don't have to take the first loan offered to you.  Having competition gives you an edge when it comes to fees and interest rates, so using a company that gives you this option might be the best one.
Another perk to using an online check cash loan online is the special offers and promotions they have.  Some of the companies change them once a month so it pays to check with several.  They also feature articles that can help you budget your money so that you can save some extra cash for emergencies.  First time customers also get benefits in that they may get the money for free, meaning they don't have to pay any interest at all on the money they borrowed.
Similar Posts:
Hours of Operation for Customer Service

Monday – Friday from 9:00 a.m. to 12:00 a.m. EST

Weekends from 9:00 a.m. to 6:00 p.m. EST

Our website is accepting applications 24-hours a day, every day of the year