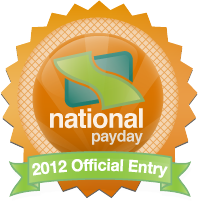 By: Josh Axhoj
Short-term lending can be a life-saver at times.  Take for instance, Jamie's daughter who recently got sick and needed an antibiotic.  Jamie was able to stop by National Payday and receive a $100 short-term loan so she could help her daughter get healthy again.
Tom received the same kind of help last month when he needed to pay his electric bill.  National Payday gave Tom a short-term loan for $400 so he could keep the lights on.
Short-term loans help provide a quick fix when you're short on funds.  National Payday's quick and easy online application process can give you access to up to $1000 within 24 hours.  Just like Jamie and Tom, you'll have peace of mind so you can pay for the necessary unforeseen bills that come your way.
National  Payday charges a 30% fee for the short-term loan.  You will need to pay it off with your next paycheck to avoid additional charges.
Short-term loans are a great way of providing financial relief when you don't know which way to turn.  The best part is that you don't have to drive to a store somewhere, stand in line, and fill out a lengthy application.  National Payday makes it easy with their online application.  You don't have to get on the phone with Mom or dial Uncle Jim to see if they'll let you borrow money again.  None of your family or friends needs to know about your finances and you can manage them yourself and show responsibility.
We all know how frustrating it can be these days trying to get any kind of a loan through the local bank.   They will waste your time listening to what you plan to do and then say "no" at the end of your conversation.  You need to take charge of your future and budget accordingly.  When life throws you the curve balls, you don't have to rely on the local bank anymore.  You can take advantage of the short-term loans at National Payday.
Joseph is a sophomore at Indiana State University.  He has a part-time job at the local grocery store to help pay for his college tuition.  When he was purchasing his textbooks for second semester, he realized he needed another $300 to cover his expenses.  With no family members to turn to for help, Joseph was able to log onto National Payday's web site.  Within 24 hours Joseph had the money he needed to pay for his college textbooks.  He was investing in his future and knew he would be able to pay off his short-term loan with his next paycheck.
Short-term loans can take the stress out of your life when you are faced with an emergency that costs more than you have in your checking account.  It's important to realize that you don't want to make a habit of using short-term loans because the cost of borrowing is very high.
After taking a short-term loan it is important to pay off the balance by the due date.  You will incur very high fees and interest charges if you only pay the minimum amount.  Make sure you realize the value of the short-term loan is to help you in a crisis and moment of financial insecurity.
Short-term lending is a great tool and provides a benefit without a long and drawn out process.  It's a comfort to know that you can always access up to $1000 with a short-term loan after establishing your reputation with National Payday.  The company tries to make things go as smoothly as possible for you.
It's important to be informed as a consumer when taking a short-term loan.  Be sure to ask questions regarding fees, interest rates, payment due dates, and when you'll receive the funds.  All of these factors will help you manage your money and curb additional costs.
The good news is that you always know you have a door open for you.  Life is unpredictable and National Payday is always available to help you in a time of need.
Similar Posts: