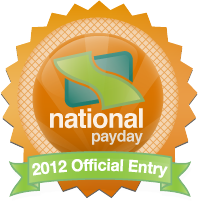 By: Lauren Dodds
How can short-term financing of any kind benefit a person's life? How I can answer this question in the easiest way possible is that life is too short. You might not understand what I mean by this, but money is one of the things that might hold someone back from doing something they really want to do. People spend much of there time saving up money, turning down opportunities for experiences to work, and settling with basic education because they don't have the funds to experience what they want most in life. I can say this from a first hand experience.
Last month I was completely fine, enjoying my summer and working to save up money to go to the local community college when out of the blue I felt this pain on my chest, like someone was squeezing me too tight and I had no idea what was going on. Next my vision went blurry and I couldn't hear anything. Next thing I knew I was on a stretcher being taken to the hospital. I was in the ER and the doctors came in and told me I was dehydrated so they were working on sending me home. I knew something else was wrong with me, and all of a sudden I had another episode in the hospital bed. Again my vision went blurry my hearing went and the machines went crazy, my heart had stopped. The doctors quickly knew I was right. My oxygen had not been plugged in and my heart had stopped. By a miracle I came back and began breathing again so they immediately called for more testing and rushed me to cardiac intensive care unit. So over the next few hours I got chest x-rays, feet x-rays (because of my fall earlier in the day), ultra sounds of my heart, an MRI, a CT scan and blood work. That's when the doctors realized that I was probably not going to leave the hospital alive. I had suffered a pulmonary embolism.
I had 100% blockage in my right lung and 95% blockage in my left. They were so surprised that I was still breathing. The next thing my doctor asked me was "are you on birth control?" when I answered yes I was immediately instructed to take out my Nuva ring. That was the only solution they could come to when they were faced with a seemingly healthy 18-year-old girl. After that they made a phone call to a doctor who they were hoping could help. By some miracle he happened to be sitting in the airport in Washington D.C. because his flight was delayed so he hopped on the next flight to Orlando. I was then transported from the Winter Park Hospital to Florida Hospital South. This was another major hurdle because it was discovered that I had a hole in my heart and with any small bump in the road it could dislodge a blood clot and send it through my heart and directly to my brain causing a stroke. Once I was safely to FHS I was taken to CICU, cardiac intensive care unit to sleep for about 5 hours before surgery.
I was so scared; all that was going through my head was all the things I never got to accomplish, all the things I would miss out on, and my family. Going into this surgery as the second youngest in the world and as a fairly new procedure this was very risky. I came out better than expected with 95% success. My family had flown in from out of town because they were expecting to be planning a funeral, now they could breathe easy, and so could I. After my surgery while still in CICU, I received my acceptance letter to FAU and I was more than thrilled, but now my family is buried in doctor bills.
I've always wanted to go away to college, but now it is going to be harder than ever. Now that I have been faced with a life-threatening situation it has become so important to me to follow my dreams. Life is to short to wait until next semester to go away to college, you are never guaranteed tomorrow. My mom always tells me "you never regret the things in life that you do, only the things you don't do" and if money is the only thing holding me back from going to college at FAU this fall then I would definitely regret missing out on this opportunity.
Similar Posts: