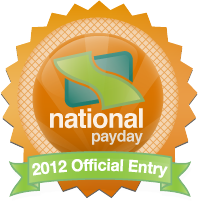 By: Nakia Bailey
In today's society, the struggles with economy have created such turmoil within many places of employment. As a result, thousands of Americans have lost their jobs and their sense of self-worth. Often, the daily financial struggles one faces are enough for an individual to lose hope and faith. I strongly believe short-term financing would allow an individual to start his/ or her own business. For example, if I were to receive short-term financing, I would open a restaurant/ sports bar in my neighborhood to revive the community and develop neighborhood pride amongst the residents.
My restaurant would be catered towards the high school and optimist sports leagues within the community. My business would provide the youth of my community and their parents a safe and family-oriented environment in which families could gather before and after the games for celebrations, fund raising events, and banquets. During the off seasons, I would allow the leagues within the community a chance to hold health fairs and back to school giveaways to assist in getting the children ready to play sports and assisting their parents with the high cost of wellness exams, sports related physicals, and purchasing back to school supplies. In addition, I would also allow the coaches from the different sports leagues within the community to hold their team and parent meetings at the restaurant and provide meals for them afterwards at a low cost.
It is my belief that a business that strives to give back to the community in which is foundated, has a great chance of retaining a strong customer base and being very successful. In this day in age, it is very important for citizens in the communities in which they reside to come together and build a strong sense of unity within the community. A strong since of unity within a community would also serve as a safe haven for at risk children. After my business is established and profitable, I would build up enough revenue to open other establishments of this nature within other communities to assist families in getting back to the basics of having strong community bonds within the neighborhoods in which they reside.
After I have had a chance to establish several restaurants, I would then branch off into establishing neighborhood fun zones and fitness camps for children who are at risk for obesity. I would do my best to get government funding to either be able to make these establishments not for profit or low cost business that the parents within the community can afford. With these particular establishments, I would make the programs offered after school and summer recreational type programs to allow the children within the communities to have a place in which they can get into shape, learn and adopt healthy eating and fitness habits, become more health conscious, physically fit, have a safe and fun environment to keep them entertained and out of trouble, and able to live more healthy lives.
I strongly believe it is very important for today's youth to have a safe, healthy, and fun place to unwind after school. As an adult who has always battled wright issues since birth, I believe it is imperative more programs are created to help our children live healthier lives. In many of the public school systems, physical fitness programs have long been done away with and the children often don't receive the recommended proper amount of exercise each day. As a result, the United States has a large percentage of children suffering from both obesity and obesity related health issues. It is important for the children of today to lead healthier lives so they can be strong and healthy adults tomorrow, especially since our children are our future.
Similar Posts: