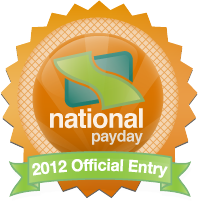 By: Estervettie McClearn
Life is full of uncertain pressures. Many of those pressures can affect our ability to progress from one level to the next. When those pressures are financial, it can be difficult to determine the best method for making ends meet. Any person who has not experienced serious financial difficulties may not understand the pressure that comes along with calls from bill collectors, threats of repossession, a car with its needle on empty, or a refrigerator that does not hold enough food to feed their family. It is enough to cause panic in a person's heart, but then the person searches for available assistance. Such is the case in my life.
In the early years of 2000, I was a young newly married woman who struggled daily to make ends meet. I had entered into a loveless-marriage with a man who did not see the need to provide for his family. One of the blessings in the marriage was that we did not have children together. That would have caused more unnecessary struggles. I began going to a nearby check-into-cash agency where my needs were met on a short-term basis. The assistance was beneficial in helping me to get ahead in certain areas of my life such as my car payments and food for the home. My marriage eventually ended but my reliance on short-term loans increased. They were a type of "life-line" for me which I utilized often. After a year or so of using the loans, the near-by agency closed and I made no further attempts to contact another one.
I never felt that I would ever need the degree of help that I needed when I got married. I always thought that the people who used short-term loans were people who needed to manage their money better. If they had to go to their mom or co-worker in between pay periods or borrow from a friend a few days after being paid, my belief was that they just needed to budget better. It wasn't until I found myself in the same situation that I realized that life's pressures can cause financial short falls. When I experienced it for myself, I found out that there were available resources for individuals who needed immediate help.
Another reality I experienced with short-term financing of various types was how easy it was to become dependant upon them. It's easy to go to a check-into-cash agency, to a friend, or to mom/dad for an immediate cash fix. As it is with any dependency there will come a time to end the cycle of abuse. With the check-into-cash agency that I was using, I had to admit to myself that I had gotten into a pattern and it was becoming harder to stop it. I was receiving help and my bills were getting paid but I also could not see myself progressing without the loans.
Today I am remarried to a man who is a good provider for his family. We sometimes find ourselves in situations where we have financial shortfalls. When we do, we know that helpful resources are available. Although my husband has a great paying job, there are times we still need help. We've both learned the value in responsible borrowing and repaying of what we borrow. It can be very easy to get into a cycle of getting fast cash every time a need arises, but it is not wise.
Short-term financing can definitely benefit an individual's life. I'm living proof of that, but wisdom must be exercised. I'm very happy that short-term financing was available during the times in my life when I needed it. I never would have made it through the dark times that I faced and I'm so glad that I had the options that I had. Now that I'm a more responsible borrower, I can appreciate the existence of various financial options that are in place when the need arises.
Similar Posts: