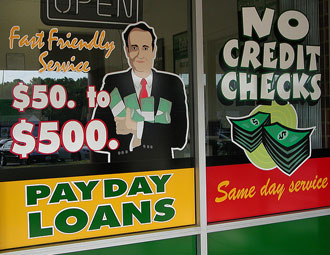 All over the country payday loans are being revamped and revitalized. North Carolina, Pennsylvania, Missouri, and a growing list of states have officials tackling the issues of short-term and predatory lending.
The economy is weak, and people need more financial help. Banks are not meeting this need, forcing people to turn to short term, high interest loans. Instead of pushing more laws to restrict these lenders, some people want to make loans more readily available from banks.
Raj Date is one of those people. As a former deputy director of the Consumer Financial Protection Bureau (CFPB), he has a lot of hands-on experience with these loan issues, and recently spoke up about them.
Are Deposit Advances and Moneycards Good Alternatives?
Date is encouraging banks to step up and adapt short-term loan programs to help consumers. Citing the Wal-Mart prepaid "moneycard" as a shining example, Date thinks that banks shouldn't be lagging behind the retailing giant in providing affordably-priced prepaid or lending options. He says his new corporate venture has already helped one bank improve its policy on "deposit-advance" loans.
A deposit-advanced loan is a more streamlined and regulated version of a payday loan. Depending on their bank, some bank patrons who are set up for direct deposit on their paychecks may qualify to borrow money against their next check. The interest rates are much higher than other kinds of bank loans (Wells Fargo charges a 7.5% fee, amounting to an APR of 120%), but still less than many payday lenders.
But not all banks offer deposit-advance loans, and moreover, many people who need the help do not have bank account at all.
Wal-Marts moneycard has been enjoying great success. It does not require a bank account, and yet still allows you to direct-deposit money to it (you can also transfer money to the card, or use a Wal-Mart to put cash on it). The Moneycard is not a loan, however, and does not afford you any credit. It is a prepaid card, meaning it contains however much money you choose to put on it. It advertises "no overdraft fees" but this is because it cuts you off when you are out of money, whereas banks allow your account to overdraft so they can charge you extra.
However, neither one of these options really addresses the need for payday lenders.
States Rights
Last year North Carolina lifted its ban on payday lending. Currently, there is legislation in Pennsylvania to allow payday borrowers a chance to earn credit towards a bank loan. And now Missouri is stepping into the battle with a bill that seeks to take power away from predatory lenders by encouraging banks to get into the short-term loan business.
The goal of this bill is to loosen banking restrictions enough to allow them to directly compete with payday and cash advance lenders. Currently, banks in Missouri are extremely limited in what terms they can offer borrowers. By allowing them to charge 10% of the borrowed amount instead of 5%, it makes the prospect of short term loans more fiscally attractive to lenders.
But will it work? Consumer groups say no, that a short term loan increases the debt cycle no matter where it comes from. On the other hand, a spokesman for United Payday Lenders of Missouri said that they welcomed the competition.
The bill is on the desk of Missouri Governor Jay Nixon, who has not publically announced if he will sign it or not.
Similar Posts: