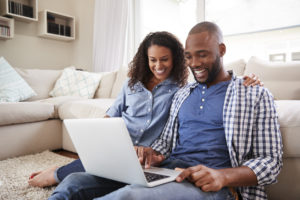 If you need cash fast, you can get a check advance online in minutes from National Payday. Wondering how?
Read on and see how you can apply online to get the cash you need!
Make Sure You Meet Our Application Requirements
First, we'll need to make sure you meet our application requirements. We do not require traditional credit checks or background checks, but we still do have a few requirements you must meet in order to qualify for a payday advance online.
You must be a legal U.S. resident and 18 years of age or older. We cannot lend to minors or non-residents
You must have a checking account, into which your check advance online can be deposited. Savings accounts will not work
You must be employed and/or have a verifiable monthly income. We will not lend to you if you have no income and cannot repay your check advance
You will also need some basic documents to get approved, like your driver's license number, Social Security number.
Visit National Payday to Start Your Application
Visit our website now and click "Apply" to begin applying for a check advance online. Our forms are easy to understand, and you can finish your application in just a few minutes. If you have any trouble, our customer service team is always here to help.
Send in Your Application 
We always guarantee fast turnaround times. If your payday advance online application is accepted and approved by 11:50 AM ET, we can deposit your cash on the same day.
If you complete your application after this time, your cash will be deposited by the end of the next business day.
Get Approved for Your Loan and Accept It
Once your application is approved, we'll get in touch so that you can review your loan terms and sign for it. We recommend taking a close look at your loan to ensure you understand the costs, fees, and repayment date associated with getting a check advance online from National Payday.
Get Cash Deposited into Your Bank Account
Once you've signed for your check advance online, your cash will be deposited into your bank account. Then, you can spend it on whatever you want. Just make sure you keep your repayment date in mind and ensure you have enough funds to repay your loan in full before it's due!
Get a Check Advance Online in Minutes – It's Just That Easy!
Ready to get started, and get the cash you need? You can get a check advance online in just a few minutes at National Payday. Visit our website now to apply, or check out our FAQs for more details. Still got questions? Feel free to contact our customer support team.
Similar Posts:
Hours of Operation for Customer Service

Monday – Friday from 9:00 a.m. to 12:00 a.m. EST

Weekends from 9:00 a.m. to 6:00 p.m. EST

Our website is accepting applications 24-hours a day, every day of the year