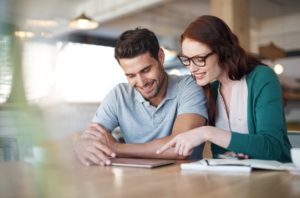 If you need $500 fast cash for an emergency like an unexpected medical bill, car breakdown or any other such expense, National Payday is here to help. Follow this quick guide, and you can get $ 500 fast cash into your account within just a single business day.
Step 1: Make Sure You Qualify for Our $500 Fast Cash Program
At National Payday, we do our best to make sure that it's easy to qualify for our loans. To be approved for a payday advance, you will only need to meet a few basic payday loan requirements:
You must be 18 or older and be a U.S. citizen – Due to lending regulations, we cannot lend to foreign nationals. Short term loans of any type also cannot legally be issued to minors. S.
You must have an active, open checking account with no holds – We use ACH cash deposits to make sure you get your money fast. However, to get your money, you will need an active checking account (not a savings account!) that is in good standing with your bank.

You must have some kind of verifiable income – We will not lend to you if you do not have some kind of income, with which you can repay your loan, so we will need proof of income/and or employment. Your income may also determine how much cash you're eligible to borrow.
Step 2: Head to National Payday and Apply for a Cash Loan
At National Payday, we can get you $ 500 fast cash in just a single business day. The first step you'll need to take is to visit our website and begin filling out an application. We'll just need some basic information about you, such as your name, contact information, driver's license or ID number, and some other details.
Our application will walk you through the entire process and usually takes only a few minutes to finish. If you have any questions or issues, you can always contact our customer service team.
Step 3: Get Your Application Approved By 11:50 A.M. EST For Same-Day Cash Deposits
To qualify for our same-day cash program and get $ 500 fast cash, you must submit your application, and have it approved before 11:50 A.M. ET. If your loan is not approved by this time, your cash will be deposited on the next available business day.
Step 4: Accept Your Loan and Get Your $500 Fast Cash Right Away
Once you've accepted your loan, your $ 500 fast cash will be deposited into your account. Then, just use the cash for your expenses, and repay the loan according to the terms of your agreement.
Need Fast Cash? National Payday Is the Answer!
While $ 500 fast cash is one of our most popular programs, as a first-time borrower, you can choose to borrow anywhere from $200-$1,000 – whatever works for you! And if you borrow from us again, you may qualify to borrow up to $1,500. So, don't wait. Apply online at National Payday and get the cash you need.
Similar Posts:
Hours of Operation for Customer Service

Monday – Friday from 9:00 a.m. to 12:00 a.m. EST

Weekends from 9:00 a.m. to 6:00 p.m. EST

Our website is accepting applications 24-hours a day, every day of the year