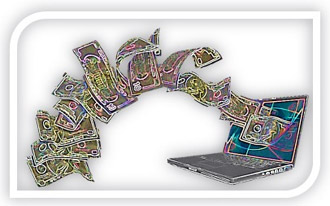 You need money, and you need it fast. There is no loan faster than online payday loans – but these kind of loans come with their own pitfalls. So what should you look for to find a GOOD online payday loan?
Here are the best practices for online payday loans.
#1 Be secure: Protect Your Sensitive Information
You don't have to be a computer whiz to keep your financial information safe. When dealing with an online lender (or any online business that wants your private information) simply check the URL in the box at the top of the screen.
HTTP is fine for regular web surfing, but before entering any of your own data, make sure that web address starts with HTTPS. The S stands for secure. If the lender doesn't have the S, then move to the next address.
#2 Be direct: Cut out the Middle Man
If you were borrowing from a bank, would you loiter outside the bank and ask another customer to go inside and get a loan for you? Of course not, you would go in and make the request yourself.
When borrowing online, always make sure you use a Direct Lender. Many companies present themselves as lender, when in fact they are Loan Brokers that collect your information and send it out to multiple lenders. Keep your business private, and request a loan from a lender who will actually make the loan.
#3 Be realistic: Avoid the Debt Cycle
Payday lenders will give you all the time in the world to repay the loan… but that is the last thing you should ever do.
It's called a "payday loan" for a very good reason – you are supposed to pay it back with your next paycheck. Makes sense, right? You pay 15% to 30% of the value of the loan, and then it is paid off. But when you can't pay it off on payday, and you have to extend the loan for a week, or two weeks, or a month, then you fall into the Debt Cycle, and it's hard to get out once you're in.
Short-term loans are very different from long-term loans. Every week you don't pay it off in full, your fees begin to skyrocket. If you get a cash advance on your next paycheck, don't over-borrow: only get a loan that you know you can pay back quickly.
If you know that you won't be able to pay it off with that next check, then DO NOT GET A PAYDAY LOAN. Instead, look for a good installment loan lender that can set you up with a payment plan. Installment loans give you a clear roadmap for paying off the debt and getting back in the black, but a payday loan will just keep you seeing red.
#4 Be smart: Get Real Answers on Online Payday Loans
What's the fee for borrowing? What's the APR? How is the interest calculated? Is there a penalty for early payment? Is there a penalty for late payment? Do they report your activity to a credit bureau? Is there a credit check?
These are all important questions that you should have answers to before you sign a contract. No matter how quickly you need the money, always take the time to get all the information you need to evaluate the loan. To quote Elvis, "wise men say, only fools rush in." True then, true now.
Similar Posts:
Hours of Operation for Customer Service

Monday – Friday from 9:00 a.m. to 12:00 a.m. EST

Weekends from 9:00 a.m. to 6:00 p.m. EST

Our website is accepting applications 24-hours a day, every day of the year