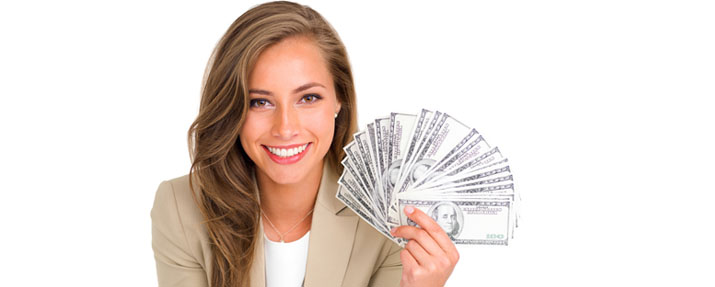 If you're experiencing budget issues due to unexpected expenses, like a medical bill, a car breakdown, or any other situation which has left you without the cash you need, cash advances online may be the right solution for you – particularly if you do not have a high credit score. For a small fee, cash advances online will allow you to get the cash you need to deal with emergency expenses and get your life back to normal. If you have questions about cash advances online at National Payday, we can answer them in this guide! Let's get started.
Why Should I Get a Cash Advance Online?
Ideally, you'll never have to borrow money to cover your expenses. But life happens, and sometimes you need some extra cash. Some of the most common reasons to get cash advances online include:
To cover the costs of a car breakdown, which otherwise could prevent you from getting to work on time
To cover an emergency medical cost, such as getting a filling for a tooth
You need extra cash to cover your important bills between paychecks
You get a traffic ticket or face another unexpected legal expense
If any of these situations sound familiar, cash advances online may be the perfect solution to your problem.
How Much Money Can I Get with Cash Advances Online?
This depends on your monthly income, the amount of time you've spent at your current job, and some other factors, such as whether you've ever taken out a cash advance online before. Usually, though, you can get anywhere from $200 to as much as $1,000. 
What Do I Need to Be Approved for Cash Advances Online?
At National Payday, we have simple application requirements. To qualify for an online cash advance, you must fulfill the following requirements:
Be at least 18 years of age with a valid driver's license or state identification card.
Have a checking account that is open, active, and in good standing
Be employed full-time, and be able to prove your employment and income
If you can meet these three requirements, you are eligible to apply for a loan at National Payday, though some other providers of online cash advances online may have slightly different requirements.
How Long Does It Take to Be Approved?
Direct payday lenders like National Payday handle every step of the application and approval process in-house. That means we can process your application in just a few minutes. If your application is applied before 11:40 am EST, we'll even be able to deposit your money on the same business day! If your application is processed later, your money will be deposited on the next business day.
What Happens After I Get a Cash Advance Online?
Once you've been approved, we will send a terms and conditions sheet, which you'll sign, agreeing to the loan. Then, we will send you your money immediately through an ACH wire transfer.
On the agreed-upon repayment date, the loan repayment amount will be taken directly out of your checking account automatically, so make sure that you transfer adequate funds to your account beforehand. Our team can tell you when you should transfer funds, to ensure that they are available when it's time to repay your loan.
Get the Emergency Cash You Need Today!
Getting cash advances online with National Payday is quick and easy. If you need some cash to cover an unexpected expense, we're the best choice. Apply today, and see how easy it is for yourself!
Similar Posts:
Hours of Operation for Customer Service

Monday – Friday from 9:00 a.m. to 12:00 a.m. EST

Weekends from 9:00 a.m. to 6:00 p.m. EST

Our website is accepting applications 24-hours a day, every day of the year