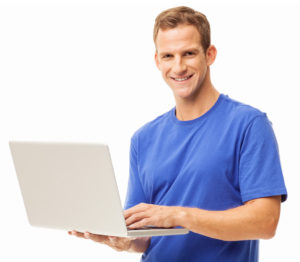 Wondering if online pay day loans from a company like National Payday is right for you? Curious to learn more about the benefits of getting pay day loans online? Read on and see why more customers than ever are choosing to apply for pay day loans online with lenders like National Payday.
Complete a Simple Online Application in Just a Few Minutes
You're not the only one who hates filling out complicated paperwork. If you visit a brick-and-mortar pay day loan office, you may have to fill out a ton of forms, which is inconvenient and takes a long time.
In contrast, online pay day lenders like National Payday provide you with quick and easy online fillable forms. You can finish your application in just a few minutes. Learn how to get payday loans with bad credit here.
Apply from the Comfort of Your Own Home
If you have a laptop and an internet connection, you can apply online for a pay day loan from the comfort of your own home office, couch, or bed! You can get the money you need without driving to a loan office, which is especially useful if you live in a rural area or are far from the nearest lender.
No Need for a Credit Check 
Unlike traditional bank loans, there is no need for a traditional credit check with pay day loans. You can get the money you need even if you have bad credit or no credit, ensuring you get the cash to cover your unexpected expenses. As long as you can meet the lending requirements of your pay day loan provider, you'll get the money you need.
Get Your Cash Fast with Direct Deposits
Many physical pay day lenders still provide you with cash or a check, which means you may need to visit the bank or a check cashing center to deposit your money into your bank account. That takes up even more of your valuable time!
But with National Payday, you won't have to worry about any additional steps. Online lenders usually use direct deposits to send your funds to your account immediately – if you're approved before 11:50 AM EST, our same-day cash program will let you get the cash you need by the end of the business day! Find out how same day payday loans work here.
Use Your Cash for Whatever You Need
Just like the pay day loans you would get from a traditional lender; online pay day loans have no restrictions. You can use them for whatever unexpected expense comes up, like a medical bill, car repair, or for whatever other purposes you require quick cash.
Apply for Online Payday Loans Now at National Payday
With great rates, the best customer service, and a quick and easy application process, National Payday makes it easy for you to get the cash you need. So head to our website now, apply today, and get a pay day loan in just a few minutes from the comfort of your own home.
Similar Posts:
Hours of Operation for Customer Service

Monday – Friday from 9:00 a.m. to 12:00 a.m. EST

Weekends from 9:00 a.m. to 6:00 p.m. EST

Our website is accepting applications 24-hours a day, every day of the year