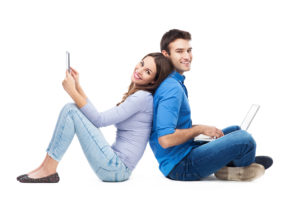 If you need cash fast for an emergency, your best option may be to find a local cash advance or payday lending company.
Whether you shop for a loan online or head to a local loan office, it's easy to apply and get the cash you need.
But how can you choose the best payday loan company? How do you know which company offers competitive rates, reasonable fees, and fast service?
Follow the tips in this article, and you'll be able to make the right choice.
Go Local or Shop Around Online
The two main choices you have for a payday loan are to turn to a local lender in your area or to shop online for a payday loan with quick approval. There are pros and cons to both options:
Local lenders – You may have a payday lender in your area, or within just a few miles, so stopping by is convenient. You also get to talk with a real person, who can help you fill out applications and answer your questions. However, applying for a loan in-person can be time-consuming, and inconvenient if you don't live near a payday loan.
Online lenders – Direct payday loans lenders, like National Payday, offer the same service you'd get in a physical loan office, but you can apply for a loan from the comfort of your own home. Filling out online applications is also usually faster and easier.
The first step to finding the best payday loan company is to consider which lenders are near you, and what online lending options you have – and to make an informed decision about which choice is right for your needs.
Consider Rates, Fees, and Repayment Schedules
Both physical and online lenders will offer you information about the rates they charge for loans and associated fees, as well as when they expect repayment. As a rule, online lenders tend to be a bit more flexible when it comes to repayment schedules. You may be able to extend your repayment, which can help you stretch your finances further in a pinch.
You'll also want to consider how much you can borrow. Usually, first-time borrowers will be limited to borrowing only a certain amount of money. Then, they can borrow more the second time they use the same loan provider.
Think About How You'll Get Paid
Local payday lenders will usually give you checks to cash, which you can take to a local bank or a check-cashing office. Online lenders typically pay you through a wire transfer, also known as an "ACH transfer."
That means that to apply for an online loan, you must have an open and active checking account. If you don't have a bank account, an online loan may not be the right option for you, and you may be better off going to a physical loan office.
National Payday – the Best Payday Loan Company for Online Loans
If you need a payday loan or cash advance fast, and you're interested in working with an online lender, you're already in the right place. National Payday has been in business since 2001, and we have a reputation for excellent customer service, reasonable repayment rates, and fast cash delivery. Apply today, or take a look at our FAQ if you have any more questions!
Similar Posts:
Hours of Operation for Customer Service

Monday – Friday from 9:00 a.m. to 12:00 a.m. EST

Weekends from 9:00 a.m. to 6:00 p.m. EST

Our website is accepting applications 24-hours a day, every day of the year