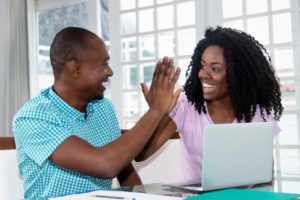 If you really need cash now from National Payday, we're here to help. With our same-day cash pay day loans, we can provide you with up to $1,000 in cash on the same day that you apply. Want to make sure you can get cash now? Here's what you'll need to do.
Determine How Much Cash You Need
If you're a first-time borrower at National Payday, you can borrow anywhere from $200-$1,000 from us. If you've borrowed from us in the past, you may be eligible to borrow up to $1,500.
Payday loans are meant to be a short-term solution for unexpected expenses, so we always recommend taking the smallest possible loan to cover your costs until your next payday. If you take out a bigger loan than you need, it may end up costing you quite a bit in the long run. 
Get Your Personal Information and Documents Together
We will need some basic personal information about you, like your contact information, driver's license and Social Security number. We'll also need proof that you meet our main payday loan requirements:
You must be 18 or older, and be a legal U.S. resident
You must have an open and active checking account, into which we can deposit your cash
You must have some kind of provable monthly income. We will not lend to you if you cannot prove that you have some kind of income from an employer or another source 
It's easier to gather this information before you apply, to make sure that you can get approved quickly, and get cash now!
Apply for a Loan as Early as You Can – It Must Be Approved by 11:50 a.m. EST!
It's very important to start your application at National Payday as early as you can. If you complete your application and it's approved by 11:50 AM ET, we'll be able to deposit your money into your bank account on the same business day you apply.
Got started too late? Didn't make the cutoff? Don't worry! As long as you're approved for a loan, your cash will be deposited into your account by the end of the next available business day.
Accept Your Loan and Get Your Cash
Once you've been approved, one of our loan officers will contact you to finalize the loan and get your signature. Sign for your cash loan online, and your cash will be deposited ASAP. Then, on your next payday, you'll simply repay your loan based on your agreed-upon loan terms. It's just that simple!
Get Cash Now with National Payday!
In just a single day, you can get up to $1,000 from National Payday. So, don't wait. Get cash now by applying with our simple, fast online application!
Similar Posts:
Hours of Operation for Customer Service

Monday – Friday from 9:00 a.m. to 12:00 a.m. EST

Weekends from 9:00 a.m. to 6:00 p.m. EST

Our website is accepting applications 24-hours a day, every day of the year