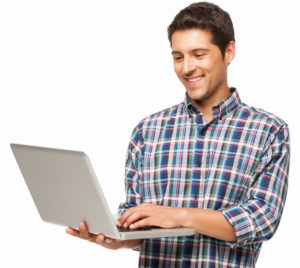 Pay day loans online are the most readily available source of fast cash you can find. Anyone who needs to get a little extra money for personal purposes can apply quickly, with no questions asked! Best of all, you can apply for the loan, sign the contract, and make all of your payments entirely online.
Who can Apply for Payday Loans Online?
Everyone is eligible to apply for payday loans online, provided that they meet the minimum criteria.
1) They are at least 18 years of age.
2) They have a checking account that can receive deposits.
3) They have proof of a regular income.
Do you need a payday loan for bad credit? National Payday can help!
The Biggest Advantage for Getting Payday Loans Online
There's no doubting that the main advantage of shopping on the internet for your cash advance or payday loan is the speed and convenience they offer. If you decide you need some money today, you can find a lender online, apply in minutes, and get a response within seconds! If approved, that cash can be in your checking account by the end of the day.
Getting payday loans with quick approval saves a lot of time. The application process itself is remarkably streamlined and able to be done remotely, even through your smartphone. And the approval process is virtually instantaneous. That doesn't mean you are automatically approved, but you will find out your loan status within seconds of applying.
The Start of a Wonderful Partnership
Many lenders these days are limiting how much money a person can borrow at one time. Most payday loans online are geared toward smaller amounts – from $200 up to $1000. This makes it easier to repay the loan quickly out of your next paycheck, so you can avoid the so-called "cycle of debt."
Need $500 Fast Cash? You can choose to borrow anywhere from $200-$1,500.
But a wonderful thing happens when you repay your payday loan. You are then automatically approved for your next payday loan, whenever you happen to need one. By borrowing and paying off the lender, you are establishing a connection with them, a partnership. Once they see that you are in good standing and pay your debts, they will happily continue to do business with you. And as fast as it is to get payday loans online, its even faster and easier once you're in the system!
Similar Posts:
Hours of Operation for Customer Service

Monday – Friday from 9:00 a.m. to 12:00 a.m. EST

Weekends from 9:00 a.m. to 6:00 p.m. EST

Our website is accepting applications 24-hours a day, every day of the year